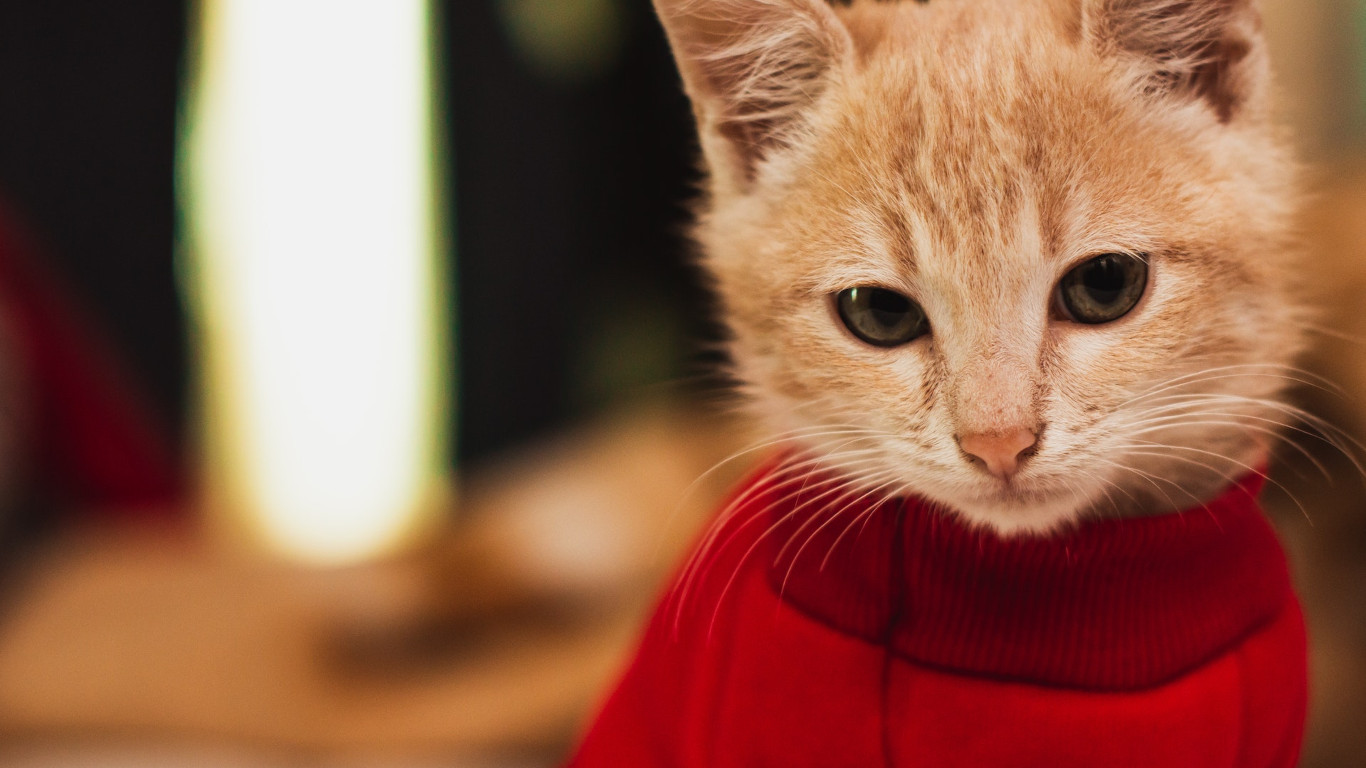 Cat Clothing
Cat Clothes and More!
Shop by Category
New In
We Recommend
Fan Favorites
On Sale
Best Sellers
Cat Clothes
ChicWhiskers is the ultimate destination for cat lovers who want to dress up their furry friends in style. We offer a wide variety of cat clothing and accessories, including costumes, jackets, hoodies, sweaters, dresses, skirts, shirts, and more.
Our cat clothing collection is designed with your cat's comfort in mind. Each item is made from high-quality materials to ensure durability and longevity. From cozy sweaters to cute dresses, we have everything you need to keep your cat looking and feeling great.
In addition to cat clothes, we also offer a range of cat accessories, such as cat harnesses, cat hats, and more. Our accessories are designed to provide your cat with maximum comfort and enjoyment.
At ChicWhiskers.com, we're committed to providing our customers with the best selection of cat clothing and accessories. We offer competitive prices and fast shipping to ensure you get your items when you need them.
Tips From Our Blog
ChicWhiskers: Unique Feline Accessories to Showcase Your Cat's Style
ChicWhiskers.com is a place where feline fashion meets elegance and sophistication. Discover our carefully picked range of cat accessories, including cat harnesses and caps, as well as jackets, costumes, gowns, formal wear, hoodies, pajamas, shirts, skirts, and sweaters. ChicWhiskers believes that every cat deserves to express themselves and be dressed to impress.
Accessories: Add the Perfect Finish to Your Cat's Look
Explore our extensive collection of accessories that will add a touch of beauty and refinement to your feline friend's attire. From fashionable collars and bowties to wacky bandanas and ornamental charms, our accessories are carefully designed to complement your cat's own personality. Allow your cat's natural personality to come through with our stylish and practical accessories.
Cat Harnesses: Stylish Adventures for Your Cat
With our assortment of cat harnesses, you can ensure that your cat is both secure and fashionable when out and about. Our cat harnesses are designed for comfort and security, and they allow your feline companion to explore the world with flair. Select from a wide range of designs, patterns, and materials to get the ideal cat harness that combines fashion and practicality.
Cat Hats: A Fun Addition to Feline Fashion
With our cute cat hats, you can make a fashion statement. Our cat hats provide a playful and fashionable touch to your cat's clothing, whether you're looking for a sun hat to protect your cat's delicate ears or a charming beanie for those chilly days. With our range of trendy and comfortable cat hats, your cat can strut their stuff with confidence and style.
Embrace Cozy and Fashionable Outerwear with Cat Jackets
With our selection of cat jackets, you can keep your cat warm and stylish. Our cat coats are made with high-quality fabrics and attention to detail, and they give warmth and protection while displaying the newest fashion trends. Our cat coats, which range from toasty hooded jackets to modern denim styles, are meant to keep your feline buddy comfortable and fashionable in all weather.
Feline Dress-Up: Unleash Your Creativity
Our cat costumes allow you to express your imagination and change your cat into a captivating character for those special occasions or fun-filled activities. Our costumes, which range from adorable superheroes to magical monsters, are made with comfort and style in mind. Allow your cat to become the life of the party and win hearts with their adorable outfits.
Dresses: Elegant and Adorable Outfits for Your Cat
Our cat outfits will make your cat look elegant and charming. Whether it's a formal event or a casual stroll, our dresses provide the ideal balance of style and comfort. Our cat outfits, with flowery motifs and lace embellishments, will make your feline pet the epitome of grace and sophistication.
Formal Attire: Dapper Dress for Special Occasions
With our collection of formal dresses for cats, you may make a memorable impression. Our formal attire line includes tuxedos, bowties, and exquisite outfits that will make your cat the star of the show at weddings, parties, or any special occasion. With our meticulously made formal attire alternatives, your cat may ooze style and sophistication.
Hoodies: Cozy and Stylish Cat Comfort
With our selection of cat hoodies, you can combine comfort and fashion. Whether your cat is lazing at home or going for a walk outside, our hoodies give a snug and fashionable layer of warmth. Our cat hoodies offer both style and usefulness, with a variety of styles and patterns to select from.
Sleepwear with a Feline Flair
With our selection of cat pajamas, you can ensure that your cat sleeps in comfort and style. Our pajamas, made of soft and cuddly materials, allow a peaceful and restful slumber for your pet. Choose from a range of gorgeous prints and designs to provide your cat with the utmost leisure.
Everyday Fashion Staples: Shirts, Skirts, and Sweaters
Our selection of blouses, skirts, and sweaters will round out your cat's attire. Our selection includes a number of alternatives to meet your cat's style and comfort demands, whether it's a casual t-shirt, a flirty skirt, or a snug sweater. Mix and match different components to create beautiful and customized ensembles for your stylish kitty.
A Fashionable Journey Through Time: The Intriguing History of Cat Clothes
Cat apparel has a long history, having its roots in diverse cultures and traditions all across the world. While cat clothing may appear to be a new phenomenon, it has been a part of human-cat relationships for millennia, providing both functional and ornamental purposes.
Cats were revered in ancient civilizations such as Egypt and were frequently decked with jewels and beautiful collars. These accouterments were viewed not only as status and protective emblems but also as a way to commemorate and celebrate cats' heavenly nature. The Egyptians believed that lavishly adorning their cats demonstrated their elevated rank and connection to the gods.
Pet apparel, notably cat dresses, became more popular throughout the Victorian era in the nineteenth century. Pets were highly valued in Victorian society, and dressing them in elegant apparel became a popular habit among the upper class. Cats were not immune to this fashion, and they were frequently clothed in miniature clothes made of costly fabrics and embellished with exquisite decorations. These outfits reflected the owners' social standing as well as their desire to pamper their dogs.
Cat attire has seen a comeback in popularity in recent decades, owing to the growing interest in pet fashion and the desire to express personal style via our furry companions. With the emergence of social media and the increased visibility of pets as influencers, cat attire has become a method to show off one's inventiveness, wit, and personality.
Cat attire now comes in a variety of styles, ranging from practical and functional items like cat harnesses and coats to beautiful ensembles for special events or everyday wear. Cat attire, whether it's a lovely frock, a snug sweater, or a smart costume, allows owners to express their love for their feline companions while also adding a sense of fun and whimsy to their lives.
Cat apparel is also useful for practical reasons. It can give warmth and protection for cats in colder locations, aid in shedding management, and provide reassurance to anxious or agitated cats. Furthermore, gear such as cat harnesses allows owners to comfortably and securely take their feline pals on outdoor outings.
Cat attire has evolved to mirror our changing sentiments on cats as treasured family members and companions. It has evolved from an ancient mark of prestige and devotion to a means of self-expression and a method to appreciate the individual personalities of our cats today. Cat apparel, whether for functional or fashionable purposes, continues to be a method for owners to demonstrate their love and care for their furry friends, forming a link that goes beyond the usual.
ChicWhiskers is a place where feline fashion meets style.
ChicWhiskers.com is dedicated to delivering attractive and high-quality accessories for your cherished cat. Explore our extensive collection of cat accessories, including cat harnesses, cat hats, cat coats, costumes, gowns, formal wear, hoodies, pajamas, shirts, skirts, and sweaters. With our elegant and diverse range, you can let your cat's individual personality shine through. ChicWhiskers, where feline fashion meets style, can give your feline pet confidence and boost their look.