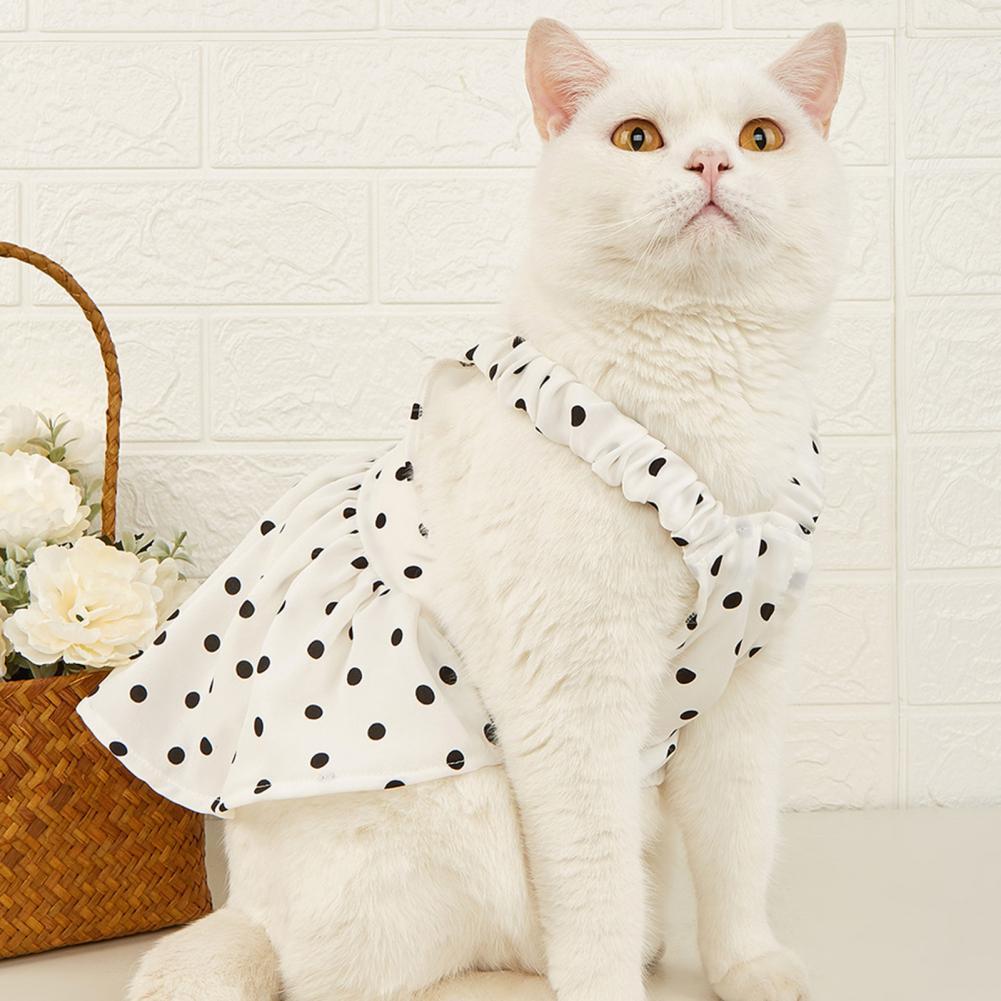 Meow! It's me, your fashionable feline friend, and I've had the purr-fect opportunity to try out the Polka Dot Cat Dress. Let me tell you, it's the cat's meow! This stylish dress has certainly turned heads and made me feel like the most fabulous feline around.
First things first, the quality of this dress is top-notch. It's crafted from high-quality materials that are soft, comfortable, and easy to wear. The lightweight fabric is just paw-some, allowing me to strut my stuff with ease. I can move freely and confidently, without feeling restricted or uncomfortable.
Now, let's talk about the polka dot pattern. Oh, it's simply timeless! Polka dots never go out of style, and this dress knows how to rock them. The classic pattern adds a touch of charm and sophistication to my look. Whether I'm lounging around the house or exploring the great outdoors, this dress makes me feel like a fashionista.
But wait, there's more! The cute bow detail is the icing on the catnip-flavored cake. It adds a dash of elegance and charm, making me the center of attention wherever I go. I've received countless compliments from humans and even a few envious glances from fellow feline friends. It's a paw-sitively adorable touch that completes the overall look of the dress.
One of the best things about the Polka Dot Cat Dress is its versatility. It's suitable for cats of all breeds and sizes, so no matter how big or small I am, I can rock this dress with confidence. It's the perfect attire for any occasion, whether it's a casual walk in the park or a fancy gathering with fellow feline fashionistas.
Taking care of this dress is a breeze too. Simply hand wash it and let it air dry. It's a low-maintenance piece of clothing that allows me to spend more time strutting my stuff and less time worrying about laundry.
In conclusion, the Polka Dot Cat Dress is a must-have for any fashion-forward feline. Its high-quality materials, comfortable fit, and timeless polka dot pattern make it a standout piece in my wardrobe. The cute bow detail adds that extra touch of elegance that sets it apart from other dresses. So, whether you're attending a special event or simply want to turn heads during your daily adventures, this dress is the purr-fect choice for your fabulous feline friend.